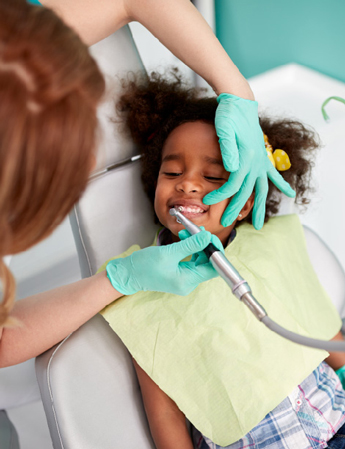 Do you need to make an appointment with a pediatric dentist near Knightdale, NC? Wilson Pediatric Dentistry proudly serves the Knightdale community and awaits your visit.
A pediatric dentist doesn't need to be difficult to find, nor does it have to be scary for young patients. Located just a short drive from Knightdale, our practice is convenient for you and comforting for your child.
From our staff that is specially trained to work with children to the kid-friendly design of our office, everything about Wilson Pediatric Dentistry aims to make your child's experience a positive one.
Services include exams, fillings, cleanings, sealants, disking, and space maintainers.

We'll monitor the development of your child's teeth and create a home care plan to encourage healthy dental habits.  
We're the only pediatric dental office in eastern North Carolina who accepts Medicaid.
Schedule an appointment for your child at Wilson Pediatric Dentistry near Knightdale, NC. Or if you have any questions, please reach out to us at (252) 291-4300.