Dr. Tanya Ashe, DDS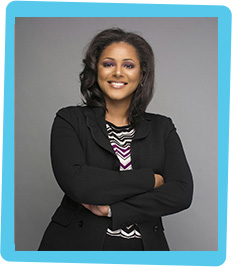 Dr. Ashe is Excited to Serve Young Patients in Wilson, NC
A member of the American Dental Association, National Dental Association, and the North Carolina Dental Society.
Dr. Ashe is a native of Winston-Salem, North Carolina. She received public education in Winston-Salem, and graduated from West Forsyth Senior High School. She then attended The University of North Carolina at Chapel Hill where she received a Bachelor of Science in Dental Hygiene, Masters of Science in Dental Hygiene Education, and Doctor of Dental Surgery Degree. After the completion of dental school, she completed a general practice residency in New York.
On a personal note, Dr. Ashe is a member of an incredible travel club – she has fun and gets to travel the world! Her number one favorite thing to do is read! She loves listening to music. She also enjoys riding roller coasters, arranging flowers, playing board games, going to the spa and attending church services as a member of World Overcomers Christian Church in Durham, North Carolina.
Dr. Ashe is excited to work with your child. Contact Wilson Pediatric Dentistry at (252) 291-4300 to learn more, or schedule an appointment online.