Regular dental examinations, cleanings, and fluoride treatments are a necessary part of any excellent dental care plan, but they're especially important for kids. By taking your children in for frequent teeth cleanings, you're helping them establish strong dental habits they'll carry with them through their lives. Get your daughter or son started off right by scheduling their first exam at Wilson Pediatric Dentist near Greenville, North Carolina.
Friendly Dental Exams, Teeth Cleanings, and Fluoride Treatments at Wilson Pediatric Dentistry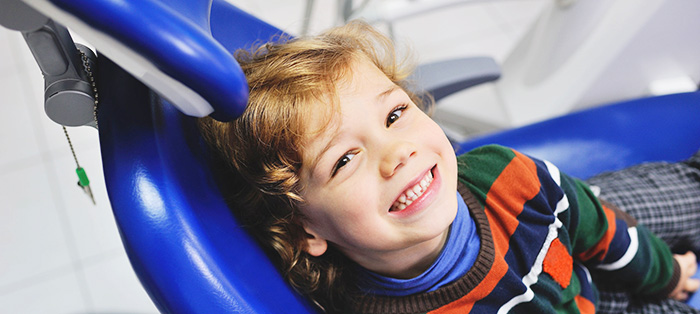 Wilson's pediatric dental exams have a different focus than general dental exams. Instead of fixing existing issues, we work on ensuring healthy development and preventing future problems.
When you take your child to see our staff, we do more than just clean their teeth. We keep close track of how the new primary teeth or permanent teeth are developing, so we can stop problems before they arise. We also apply special fluoride treatments, to help strengthen teeth and protect them from decay.
Wilson Pediatric Dentistry recognizes how intimidating dental visits can be for children. That's why one of our biggest focuses is making dental visits comfortable and stress-free for our young patients. From our welcoming, kid-friendly waiting room to our gentle staff, we make regular dental visits fun for your children.
When Should You Take Your Child in for a Dental Exam?
The American Academy of Pediatric Dentistry suggests scheduling your child's first dental appointment when their first tooth emerges at around 12 months. Dr. Elmore suggests you bring your child in about once every six months, so she can maintain a close watch on their development.
What You Can Do Between Visits
Based on her examination, Dr. Elmore will build a dental home plan based on your child's unique needs. This will include a brushing schedule, diet suggestions, and care tips you can practice at home.
Here are some tips for keeping your kids' teeth sparkling clean between visits:
Brush twice a day, at night and in the morning
Floss once a day
Limit their intake of sugary treats
Buy your child a new toothbrush every three to four months
Give your child a strong foundation for dental health by scheduling their first dental exam early near Rocky Mount and Knightdale, North Carolina. Contact us to learn how we can take care of your child's smile.